J Genomics 2021; 9:38-42. doi:10.7150/jgen.58823
Research Paper
Genetic Diversity of Clinical Bordetella Pertussis ST2 Strains in comparison with Vaccine Reference Strains of India
1. Maharishi Valmiki Infectious Diseases Hospital, New Delhi - 110009, India.
2. Department of Clinical Microbiology, Christian Medical College, Vellore - 632 004, India.
3. Department of Chemical and Biological Engineering, The University of Sheffield, Sheffield, United Kingdom.
4. World Health Organization, Country Office, New Delhi - 110029, India.

This is an open access article distributed under the terms of the Creative Commons Attribution License (https://creativecommons.org/licenses/by/4.0/). See http://ivyspring.com/terms for full terms and conditions.
Citation:
Sharma NC, Anandan S, Devanga Ragupathi NK, Muthuirulandi Sethuvel DP, Vasudevan K, Kumar D, Gupta SK, Sangal L, Veeraraghavan B. Genetic Diversity of Clinical
Bordetella Pertussis
ST2 Strains in comparison with Vaccine Reference Strains of India.
J Genomics
2021; 9:38-42. doi:10.7150/jgen.58823. Available from
https://www.jgenomics.com/v09p0038.htm
Abstract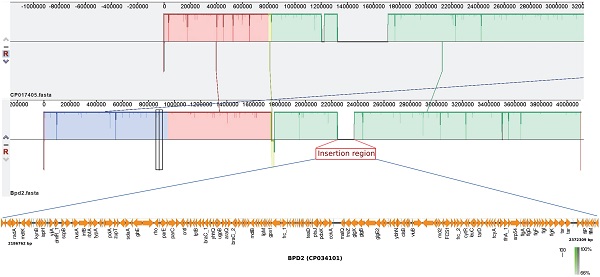 Objectives: Pertussis is a highly contagious disease of the respiratory tract caused by Bordetella pertussis, a bacterium that lives in the mouth, nose, and throat. Current study reports the highly accurate complete genomes of two clinical B. pertussis strains from India for the first time.
Methods: Complete genome sequencing was performed for two B. pertussis strains using Ion Torrent PGM and Oxford nanopore sequencing method. Data was assembled de novo and the sequence annotation was performed through PATRIC and NCBI server. Downstream analyses of the isolates were performed using CGE server databases for antimicrobial resistance genes, plasmids, and sequence types. The phylogenetic analysis was performed using Roary.
Results: The analysis revealed insertional elements flanked by IS481, which has been previously regarded as the important component for bacterial evolution. The two B. pertussis clinical strains exhibited diversity through genome degradation when compared to whole-cell vaccine reference strains of India. These isolates harboured multiple genetic virulence traits and toxin subunits, which belonged to sequence type ST2.
Conclusion: The genome information of Indian clinical B. pertussis strains will serve as a baseline data to decipher more information on the genome evolution, virulence factors and their role in pathogenesis for effective vaccine strategies.
Keywords: Bordetella pertussis, ptx, IS481, genome reduction, ST2, Hybrid assembly